Any questions?
Need advice on what material or heat treatment to use? Will a part distort and how? We provide technical support and advice to clients on a range of issues including materials, heat treatments, post heat treatments and machining.
Plus our qualified metallurgist is available for research and analysis. Call us for further details.
Pickup and delivery
To make an enquiry or to book a pickup, please contact us on:
Phone 8276 6866
Email admin@toolgen.com.au
Between 7.30am - 3.30pm
Monday - Friday
Tooling and General Heat Treatment runs an internal Quality System and has achieved and been certified ISO 9001 compliance.
---
Tooling and General have achieved ISO9001 Quality Management System and ISO45001
Safety Certification.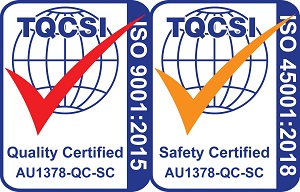 Tooling and General are certified to ISO 9001 and ISO 45001. The audit process was undertaken by TQCSI.
ISO9001 Certificate | ISO45001 Certificate
Proud members of the Metal Treating Institute

MTI represents the largest network of commercial heat treaters in the world. MTI provides heat treatment training, meeting the standards of Aerospace Recommended Practice - SAE ARP1962.

To learn more visit their website
Tooling and General Heat Treatment are also members of the following organisations: