Any questions?
Need advice on what material or heat treatment to use? Will a part distort and how? We provide technical support and advice to clients on a range of issues including materials, heat treatments, post heat treatments and machining.
Plus our qualified metallurgist is available for research and analysis. Call us for further details.
Pickup and delivery
To make an enquiry or to book a pickup, please contact us on:
Phone 8276 6866
Email admin@toolgen.com.au
Between 7.30am - 3.30pm
Monday - Friday
Tooling and General have achieved ISO9001 Quality Management System and ISO45001
Safety Certification.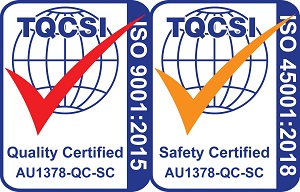 Tooling and General are accredited to ISO 9001 and ISO 45001. The audit process was undertaken by TQCSI.
ISO9001 Certificate | ISO45001 Certificate
Tooling and General have achieved furnace compliance to API 6A Annex M. Processes covered are Nitriding and Stress Relieving.
Deep case carburising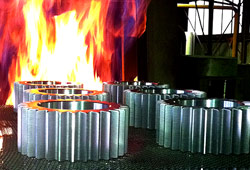 Tooling and General Heat Treatment is running regular deep case carburising cycles for depths from 2 mm - 3.5 mm.

Deep case carburising is used for heat treating large highly loaded mining and earthmoving gears and shafts.

For further information please phone 8276 6866.
Shot peening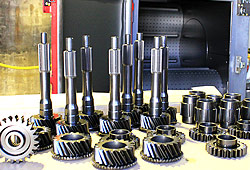 Tooling and General heat Treatment have recently introduced shot peening to the range of services available to our clients.
Shot peening is a cold working impact process that uses a high velocity blast stream of millions of hardened steel spheres. Each shot acts as a mini ball peen hammer striking the surface and forming a tiny dimple. The material below the surface tries to counteract the strain resulting in a layer of cold worked metal stressed in compression. The compressively stressed zone resists crack initiation and propagation, increasing the service life of the part.
Shot peening will:
- Increase fatigue life of parts
- Prevent incidence/propagation of stress corrosion cracks.
Typical uses: Gears, shafts, corrosive environment parts (eg pumps), springs, torsion bars, pins, suspension parts